How to Use 3D Printers to Print a Gift on Valentine's Day
For centuries, Valentine's Day has been an important day for millions of couples all over the globe. As soon as February begins, you see stores decorated with red heart balloons, teddy bears, and other Valentine's Day themed goodies. Finding a gift on Valentine's Day for a loved one that's unique can be a little complicated. You might get lost going through multiple stores in an attempt to find something meaningful for your significant other. After all, the day is meant to be a symbol of your love.
You might have the perfect dinner planned at the best restaurant in town, but the gift is the real star of the show that they will cherish forever. Gifts are essential on Valentine's Day, just as it is on a birthday or any special occasion. However, the difference here is the meaning attached to the day. Valentine's Day gifts are practically your way of saying how much you love your significant other. It is a gift that they will cherish for years to come and consider a symbol of your love. The question then is how to give innovative and unique gifts. If you need some help, we've got great Valentine's Day gift ideas for you.
Try Out a 3D Printer:
When it comes to Valentine's Day gifts for her, we're sure a personalized gift will be considered extra special. Think about a gift that you created on your own that was executed to perfection. Even if you feel as if you are unartistic or can't draw well, a 3D printer can do all of that for you! Since it is a technological innovation that creates a physical object from s picture, it's a great way to make Valentine's Day gifts for him too.
All you need to do is get your hands on a 3D printer, and you can make new fantastic gifts on many Valentine's Days. The great thing about these is that there are no limits to what you can create. It's left to your imagination. It could be an inside joke, the place you met, a little keepsake, or even a big centerpiece.
What Can 3D Printers Do?
If you don't know much about 3D printers, then you're in for a surprise. These phenomenal devices can create a three-dimensional object from an image using CAD (computer-aided design). It works somewhat like ordinary printers but with a twist. Instead of using ink and paper, a 3D printer uses a material of your choice, such as plastics, composites, or biomaterials, to create the image that you instructed it to create.
For example, if you wanted to create a little figurine of a boat out of plastic, you just load a roll of plastic up into the printer. It will melt it and place it in a way that will create the figurine that was selected. You can create this image in any software as long as it is a 3D image. It does so by layering the materials that you selected to objects of any shape, size, rigidity, and color.
A Great 3D Printer: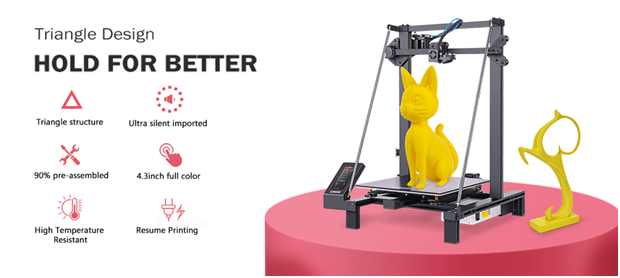 If you're interested in this excellent method to make Valentine's Day gifts, a great option is the LK5 Pro FDM 3D Printer from the trusted company LONGER 3D. This is one of the many 3D Printers that are available from LONGER, which has had multiple successful customers in the past. Moreover, now the Love Season Sale of LONGER has a huge discount. Here are some features of the LK5 Pro:
The LONGER LK5 Pro is one of the printers that comes mostly preassembled. It is incredibly annoying to put one together from scratch, but this one is much easier. It is an affordable 3D Printer that is 90% preassembled. It has a printing structure of 300*300*400 mm, which is pretty great for your Valentine's Day gifts. Its dual inclined rods, along with the stable triangular structure, hold all three axes steadily in place.
The bed of the printer is immensely important. It needs to have enough friction for the project to stay in place during printing but be smooth enough to peel off once it is complete. The LK5 Pro has a glass bed coated with ceramic. This allows for both steadiness during printing and eases while peeling it off.
High temperature resistance:
The Teflon tubes within the printer can withstand up to 280℃. This means that the nozzle won't clog up with material, and the printing will be constant. No gaps or inconsistencies will occur due to nozzle blockage.
The printer has three kits of TMC2208 chipsets for all of the axis. This means the entire printing process will have an extremely low noise as the motor will not work too loudly. Unlike many other 3D printers, the LK5 Pro will work quietly throughout the printing process.
The printer has a 4.3-inch touch screen in color. This provides a better user interface that will help you work with the printer.
How to Make Your Valentine's Day Gifts:
If your Valentine's Day ideas now involve a 3D Printer, you might want to know how to make one. Here is a step-by-step method on how to make a fantastic gift on Valentine's Day with a 3D printer:
Create your image using any software and save it into an SD card. The extension should be ".gcode" as this is what the printer will recognize.
Preheat your printer and grab your material. To check if the heat is alright, insert your material into the extruder until some of it starts coming out of the nozzle.
Insert your SD card into the printer. On the touch screen, select print, then files, and select whatever you want to print. After this, hit print, and the printer will start doing its job.
Wait for the printer to finish. When it is done, the screen will display a message saying the printing is complete.
Peel your Valentine's Day gifts off the base, and you've got the perfect gift for your loved one.
What Can You Make: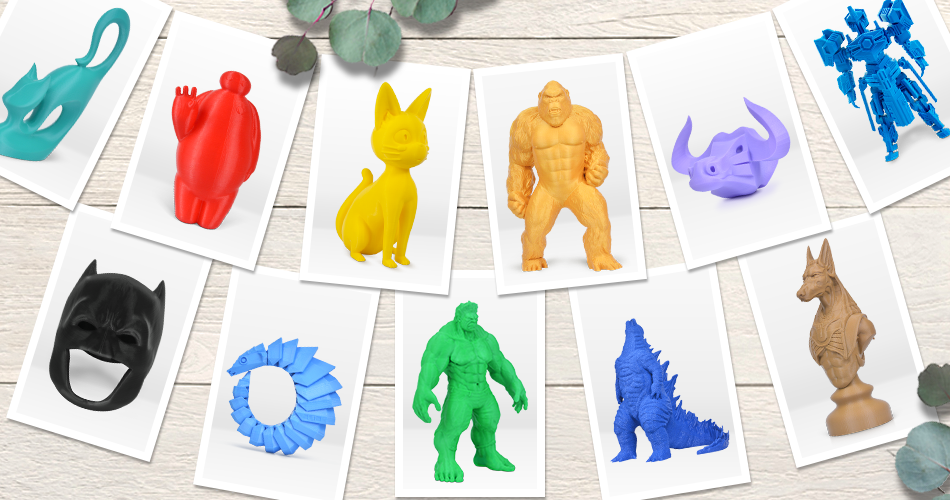 With a 3D Printer like the LK5 Pro, you can make almost anything that you put your heart into. If you feel stuck, here are a few ideas:
A figurine of your first date. For example, if you went on a yacht ride, get the yacht printed out.
A little figurine of an inside joke. This could be anything at all. Think about a special moment in your relationship and get creative.
A model of something you plan to do together in the future. For example, design a house that the two of you plan to build with time or a city you'd like to visit.
Go classic with roses. Who wouldn't want a bunch of roses that last forever? With a 3D printer, you can make it happen!
Summary:
Now you probably know what to do on Valentine's Day when you understand the power of 3D Printers. Giving your loved one a gift on Valentine's Day is probably much easier now, isn't it? We understand how important this gift can be, which is why an innovative gift that has a personal touch is a great idea. The LK5 Pro FDM 3D printer from Longer is a great option if you are looking for a phenomenal printer that will produce the best gift ever. It has multiple benefits and is extremely user-friendly. So, you can definitely create a perfect Valentine's Day gift, or two, for your significant other in no time.
https://www.longer3d.com/products/lk5-pro-fdm-3d-printer
---